Who Are Our Volunteers?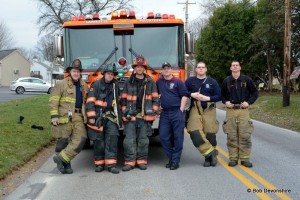 The committed, courageous and compassionate volunteer firefighters at Lafayette Fire Company are your neighbors, friends and the people you meet daily around town.
You may recognize us from our day jobs—lawyer, IT specialist, manager, electrician–or you may have spotted us spending time with our families or frequenting local businesses. Despite all that we do, we also volunteer as firefighters to serve and protect the people and property of East Lampeter Township.
We invite you to join your family, friends and neighbors and become a Lafayette Fire Company volunteer and play a vital role in making our community safer and stronger.
Many Ways to Volunteer
Lafayette Fire Company has a variety of positions that can be filled by volunteers. While many volunteers opt to fight fires and work on the front lines, there are other volunteer opportunities that are essential to the smooth and effective operation of the fire company. There are many ways to get involved:
Firefighting Operations

These volunteers are at the forefront of fighting fires. These volunteers personify bravery and concern for their community. Lafayette Fire Company provides extensive training for all volunteers, focusing on learning to advance the hose line, performing search and rescue and positioning ladders strategically.

Rescue Operations

Volunteers are prepared to respond to specialized calls, including auto accidents, carbon monoxide alarms and rescue calls.

Administrative Personnel

They play key roles behind the scenes. They support public education and safety efforts and apply specialized skills to assist other fire company volunteers.

Fire Police

These volunteers are instructed to bring a calm and organized presence to emergency situations where they assist with traffic management, crowd control and provide general assistance.

Junior Firefighter

volunteer positions are open to those 14-17 years old who learn basic fire and emergency operations procedures.